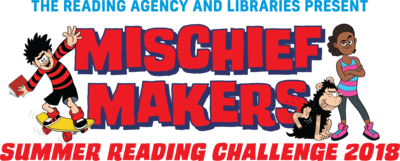 This year the Summer Reading Challenge theme is Mischief Makers, celebrating 80 years of the much-loved comic Beano.
Children will explore a map of Beanotown to find a hidden treasure chest full of pranks and become ultimate mischief makers!
As children read library books for the Summer Reading Challenge, they will receive special stickers, some with mysterious smells. By adding these stickers to their map, young readers will help Dennis, Gnasher and friends solve clues and discover the treasure, having lots of fun and adventures along the way.
To take part in the Summer Reading Challenge, all you need to do is come in to Blackfen Community Library and sign up – if you don't have a library card already, you can join on the day.
There's also the Mischief Makers website where children can chat, get reading recommendations from the Book Sorter, review their books and enter competitions.